Welcome to Advanced Carpentry and Remodeling LLC, a full service interior and exterior home remodeling company, established in 2008. I have built a reputation on exceptional quality in craftsmanship with outstanding customer service. My name is Joe Rogers, I am the owner and lead carpenter/contractor of Advanced Carpentry and Remodeling LLC. From the design to the building and finishing of all of my projects I will personally work with you to get the results you want. I only do one project at a time, that way I can give my clients my full attention through out their entire remodeling project! I invite you to take a tour of our site to see some of the completed jobs and possibly give you ideas and inspiration for your project. If you have a project you would like to discuss, feel free to contact me at 636-346-0492, email me at joe@advancedcarpentrystl.com, or fill out the form below and I will contact you soon. Thank you for visiting!


We are a proud member of the better business bureau with an A+ rating!!
Check us out on Facebook by clicking on the icon below!! Feel free to like our
page for updates on current projects and to see what we do from start to finish!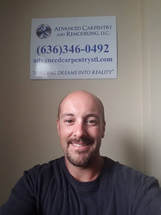 ​About me:
I started in new construction as a laborer for a small framing contractor. I spent the first year or so carrying lumber to the experienced carpenters, keeping the job site clean, and doing the simple tasks that were asked of me. I learned the importance of doing the job perfect from start to finish, being framers the quality of the finished house depended on how well we did. To pick up extra hours I would also help the trim carpenters when I could, and they taught me about setting cabinets, installing trim, and using a little imagination to create beautiful finishes. Learning from these small independent contractors made me realize how important quality and efficiency are. I moved into remodeling after the down turn in new construction homes, which is a completely different world from what I was used too! I worked with a few different remodeling contractors who taught me about the systems in a home and how they work together. I began researching and learning all the skills required, and I stay educated on the science and practices of building and remodeling through research, podcasts, and practice. I absolutely love being a carpenter and take so much pride in every project, while making sure my clients get exactly what they want. Please enjoy the picture galleries, and feel free to contact me to discuss your project!.
Thank you,
Joe Rogers
​636-346-0492